Home
»» How To Become a Medical Assistant
How to Become a Medical Assistant?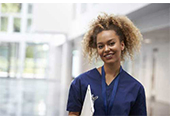 Medical assisting offers a lucrative salary, outstanding benefits, solid employment potential, and plenty of job security. If you are interested in becoming a medical assistant, or MA, you'll need to obtain the right education, training, and certificates to improve your employability. You should also possess specific traits and qualities that will help you succeed in this career field.
Sponsored Search
Step 1 – Take the Right High School Courses
At the very minimum, you'll need a high school diploma or GED in order to become an MA. A high school diploma is best because it provides you with an opportunity to start learning early, which will make your post-secondary education simpler. You'll need to learn the fundamentals, including mathematics, reading comprehension, English, and basic computer skills. Some additional courses you can take in high school to help you on your path to becoming a medical assistant include:
• Biology;
• Chemistry;
• Anatomy;
• Office management; and
• Medical transcription, where available.
As a tip, high school students who are interested in healthcare careers can speak with their guidance counselors for information about recommended courses offered by their particular schools.


Step 2 – Choose a Path
You can become a medical assistant in two different ways. You could go to work in a healthcare facility as a medical assistant and receive all of the training you need on the job. You could also attend a formal university in order to receive a certificate, diploma, or associate degree in medical assisting.
On-the-Job Training
This option is the quickest way to start your career since you can start working right away and learn as you go. You can start out with a position as a medical assistant and work your way up the career ladder. The biggest benefit is the ability to save money on obtaining a diploma or degree and actually earn money in a healthcare environment as you learn.
You will need to possess a high school diploma or GED in order to get an entry-level position in just about any healthcare facility. You will also need to find a physician or a facility that is willing to provide you with the training you need. The major downfall to choosing on-the-job training is the fact that many facilities and doctors will not hire MAs who are not specifically trained to fulfill that role.
Formal University Training
Formal training is the most common path to becoming a medical assistant. Hundreds of colleges across the country offer training programs. Based on the school and program you choose on an average, you can obtain your certificate or diploma in 3 to 18 months, or you can take classes for 16 to 24 months and obtain an associate degree. Your college education will consist of classroom, laboratory training and will also include an externship which will give you the required real-world experience.
There are schools that provide all of their classes on a campus and externships in on-site medical facilities, and there are others that will offer online-only courses or even hybrid programs, which combine classroom and online learning.
On-Campus Training: You'll need to attend classes and lectures, take laboratory-based classes, and perhaps even complete your externship on a college campus. Some schools offer daytime and evening classes to help fit your schedule.
The advantages of learning to become a medical assistant on a college campus are many. You'll be able to talk face-to-face with your professors, you'll have access to a variety of resources provided by the school, and you'll be able to work with other students who also want to become MAs.
There are a few disadvantages, as well. For example, many universities only offer certain courses once per day, which can present problems for those who have tight schedules or who are working while they study. On-campus training can also be costly in terms of tuition, books, and commuting.
Online-Only Training Programs: Some colleges and universities provide online-only certificate, diploma, and degree programs for medical assisting. Students are required to have access to a computer and the internet in order to take the courses.
The advantages of learning to become a medical assistant in an online-only program involve the ability to schedule classes according to your needs, learn from anywhere, and continue to work and spend time with your family while you get an education. This is often the best choice for people who are already working in the healthcare industry but who want to further their careers.
Disadvantages include a lack of structure, which means you'll need to motivate yourself to complete your studying and work, very little interaction with professors and students, and the lack of a campus. For this reason, you can only complete the classroom portion of your studies online. You must complete your laboratory classes at an approved facility.
Hybrid Programs: Hybrid programs combine the advantages of both on-campus and online-only training into a single flexible education path. You will complete some of the classwork online, and you'll complete some on campus. In a medical assisting program, laboratory instruction and externships cannot be completed online. The hybrid option addresses this, and it also reduces the expenses associated with on-campus training. What's more, it provides some interaction with other students and professors.
You'll need to examine your schedule and your finances in order to make the right choice when it comes to getting an education. Keep in mind that you may qualify for grants and scholarships to help you offset some of the financial burden associated with tuition, books, and in some cases even housing and other living expenses.
Step 3 – Complete Your Externship
An externship for a medical assistant is an unpaid opportunity to obtain real world, hands-on experience in the field. You will be required to complete an externship before you can complete your program for your certificate, diploma, or degree. You will be expected to perform a variety of duties during your externship, including administrative and clinical tasks.
Administrative duties performed during a medical assistant externship include but are not limited to:
• Managing communications between coworkers, patients, and supervisors through email, postal mail, telephone, video conferencing, and in-person discussion;
• Maintaining patient health records under HIPAA guidelines;
• Taking/relaying messages for doctors, nurses, and other members of the facility staff;
• Scheduling appointments for patients;
• Handling patient billing and insurance;
• Ordering supplies for the office and the medical practice; and
• Documenting information in electronic and written formats.
Clinical duties that a medical assistant may perform during an externship include but are not limited to:
• Preparing patients for medical examinations and procedures by taking and logging vital signs, taking medical histories, setting up equipment for the physician, and explaining procedures to patients;
• Cleaning and preparing medical exam rooms once the patient leaves;
• Collecting and handling laboratory samples;
• Assisting in the preparation of injectable medications;
• Keeping supplies in laboratories and exam rooms stocked; and
• Routinely inspecting medical implements and tools for safety.
As a tip, remember that many universities and colleges that provide medical assistant training will help you set up an externship. Conversely, should you choose to complete the classroom portion of your studies online, you may be required to seek your own externship from an outside source.


Step 4 – Get Certified
There are no federal or state laws that require you to become certified or licensed as an MA in order to work. Nevertheless, employers prefer to hire candidates who have certificates. When you obtain your certification, it is proof that you have demonstrated your competency in the three primary areas of healthcare, which are administrative responsibility, clinical skills, and medical treatment. However, MAs without certification may be limited on the duties they can perform in some states. There are a handful different certifications you can obtain.
CMA or Certified Medical Assistant
This is the most popular certification among MAs in the United States today, and it is also the most comprehensive. It is offered by the American Association of Medical Assistants, or AAMA. In order to be eligible to sit for this exam, you must be enrolled in a medical assisting program that is accredited by the Commission on Accreditation of Allied Health Education Programs (CAAHEP) or the Accrediting Bureau of Health Education Schools (ABHES). Students must take the exam no sooner than 30 days prior to their graduation or one year following their graduation dates.
Individuals who have been found guilty or who have pled guilty to a felony are not eligible for CMA certification. Those who have had a professional certification, registration, or licensure revoked, suspended, or placed on probation cannot sit for the exam.
You will need to submit an application to the AAMA. Once the AAMA has received and processed your application, you'll be given a 90-day period during which you must take your exam. You can take the exam at one of hundreds of Prometric testing centers across the country, and you'll pay $250 to take the exam if you are not a CAAHEP or ABHES member. If you are a member, you'll be charged $125.
CCMA or Certified Clinical Medical Assistant
The CCMA certification is one of the less popular options, but some employers do specifically ask for it. This certification is offered by the National Healthcareer Association, or NHA. To be eligible, you'll need a high school diploma or GED, and you'll need to have completed a training program or have one year of work experience. You can take the exam up to one year prior to graduating from your program.
You can register for the NHA's CCMA exam online. You'll need to provide basic information as well as documentation that proves your eligibility. You can choose from a pen-and-paper or computer-based exam at one of more than 500 testing centers across the country, and you'll pay $155 to test.
CMAA or Certified Medical Administrative Assistant
The CMAA designation is also provided by the NHA, or National Healthcareer Association, but focuses only on the administrative side of medical assisting. This certification is ideal if you want to get a job as a medical secretary, though many medical assistants obtain this certification along with their CCMA certification in order to prove their versatility in the workforce.
The requirements to sit for the CMAA exam include successful completion of a Medical Administrative Assistant program within the last five years along with a high school diploma or GED. The test costs $117.
RMA or Registered Medical Assistant
The RMA certification is offered by the American Medical Technologists. To earn this credential you must successfully pass the certification exam. Start by applying online for the exam along with a non-refundable fee of $120. To be eligible, you must either be a graduate of an accredited medical assistant program or military training offered by the US armed forces. The AMT also allows candidates who are not medical assistant graduates but have experience of working as a medical assistant or a medical assistant instructor in an accredited program for a minimum of five years, to apply for the exam.
Applying as an MA graduate from an accredited or Military training program: Your training program must include 720 clock hours of instructions, out of which, at least 160 hours must be from an externship. If you are someone who has graduated more than 4 years ago then to be eligible you require having at least 3 years of clinical and administrative work experience as an MA.
Applying as an MA with work experience: You must have experience of working as a full-time MA, having fulfilled clinical as well as administrative duties. You are required to have a valid CPR card as well.
Applying as an MA instructor: A teaching experience in an accredited MA program of 5 years is required to be eligible. Your experience must include areas of clinical as well as administrative duties of a MA.
NCMA or National Certified Medical Assistant
The NCMA certification is offered by the National Center for Competency Testing (NCCT). Before you apply, ensure whether this certification meets the requirements for practice in your state. To take the exam you must first apply to the NCCT along with an application fee. The NCCT offers three paths of eligibility to take the exam. The application fee ranges from $90 to $135, depending on your route of eligibility. The exam contains 150 scored items and takes 3 hours to complete.
MA graduate from an accredited program: You can apply, either 6 months before you complete your graduation or after you graduate.
Military: If you have completed your medical assistant training in the U.S.Military within the last five years, then you are eligible to apply. Alternatively, you could even be a retired member of the armed forces having two years of full-time experience as a Medical Assistant.
Work Experience: You are eligible to apply if you have two years of full-time experience as a medical assistant within the past five years.


Keep Your Certifications Active
Once you've obtained one or more of the aforementioned certifications, you'll need to keep them active. Each certifying group has different requirements for continuing education and recertification, so it is important to learn more about this once you've received your initial certification.
CMA Recertification
CMA certification is valid for 60 months. You can recertify in one of two ways. First, you can complete the recertification examination, or you can apply for recertification based on continuing education. In either case, you will need to pay an enrollment fee and provide documentation to the AAMA. If you are recertifying via exam, you must retake the exam. If recertifying based on continuing education, you'll need to provide proof of CEU (Continuing Education Unit) transcripts.
If your CMA status has expired, you cannot use the CMA credential. You can reinstate it by retesting or taking continuing education courses, then applying for recertification. If your CMA status has been expired for more than 60 months, you'll need to sit for the original CMA certification examination again.
CCMA and CMAA Recertification
The NHA makes it easy for individuals who have CCMA or CMAA credentials to keep them current. This agency requires you to earn 10 CE (Continuing Education) credits every two years. To do it, you can complete complete 10 online CE credits every two years for $169. If you have both of these NHA credentials, you can pay an additional $45 to recertify both.
If your certification is expired, the NHA will require 15 CE credits in order to reinstate your credentials. However, if your certification has been expired for more than one year, you'll need to retake the certification exam. Continuing Education credits may be earned from sources outside of the NHA, but proof of completion must be provided.
RMA Recertification
Now that you have earned your RMA certification, the AMT requires you follow certain mandates to keep your certification active. Firstly, you must pay an annual fee of $50 to keep your certified status active. This can be done online through the AMT website. Secondly, you are required to stay relevant with your professional knowledge and skills by completing a Certification Continuation Program every three years. As an RMA you must document your continuing education activities and obtain 30 points over a three-year period. Your activities can be recorded using the AMTrax where the points earned for your activities can be tracked.
You will need to submit the Certificate of Completion you receive for each course or provide transcripts of all courses completed according to ARMA guidelines for CEUs provided by outside educational facilities. These include the name of the course, the date of completion, your name, and the CEU measure or educational worth.
If your membership lapses, it will take six to eight weeks to process your reinstatement. There are separate reinstatement options for individuals who are currently working as medical assistants and those who have not worked as medical assistants in some time.
The choice to become a medical assistant is one that people might make in high school or later in their careers. Nonetheless, it takes formal training, on-the-job experience, and sometimes both in order to be competitive in today's tough job market. Obtaining a degree and a credential will not only make you a great choice for most employers, but will also help you further your career.
NCMA Recertification
To keep your NCMA certification active, the NCCT certifying agency requires an annual fee payment of $77 and completion of 14 contact hours of continuing education courses. You can either complete the online CE courses offered by the NCCT, the cost of which is included in the fee, or alternatively opt for non-NCCT courses.