Home
»» Improving Myself as a Medical Assistant
How can I Improve Myself as a Medical Assistant?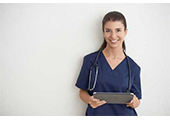 Medical assistants play vital roles in today's healthcare industry, and employers are always on the hunt for the best of the best. Learning about ways to improve can help you earn more money, enjoy more job stability, and feel better about your career as a whole. If you want to improve yourself as a medical assistant, you have several options available to you.
Sponsored Search
1. Get a Degree
The first thing you can do to improve yourself as a medical assistant involves getting a degree if you don't already have one. The only education requirement for becoming an MA is a high school diploma or GED, but if you want to make a difference in your career and really shine in the eyes of employers, a degree is a must.
There are numerous colleges and universities, including some community colleges, that offer associate's degree programs for medical assisting. Depending on your school of choice and your own personal pace, it takes between 18 and 24 months to complete these studies and obtain a degree. You'll need to participate in an externship, as well. If you're already employed as a medical assistant, it may be possible for you to use your work experience toward obtaining your degree.


2. Obtain Certification
If you already have an associate's degree, the next step in improving yourself as a medical assistant is to obtain certification. There are several certifying agencies, but the vast majority of employers look for the CMA (Certified Medical Assistant) credential provided by the American Association of Medical Assistants (AAMA). In order to take the exam required to obtain this credential, you'll need to have graduated from a facility accredited by the Commission on Accreditation of Allied Health Education Programs (CAAHEP) or the Accrediting Bureau of Health Education Schools (ABHES).
The exam is more thorough than exams offered by other credentialing organizations, and it demonstrates your knowledge of the high-quality delivery of healthcare. You can take the exam 30 days before or up to one year after you complete your training program, and you must recertify every 60 months. If you are already working as a medical assistant, your on-the-job experience may qualify you to sit for the exam, even if it has been more than one year since you finished your training program.


3. Participate in Continuing Education
Physicians and facilities that employ medical assistants prefer and sometimes require candidates who regularly take continuing education courses. These are often provided by the agency through which you get your credentials, and you'll need the credits to recertify. Continuing education covers a variety of topics in the healthcare industry, but particularly new procedures, mandates, policies, and technologies that may change the way healthcare is delivered.
If you obtained your CMA credential from the AAMA, you'll need to obtain 60 recertification points at (should we use before) the end of 60 months in order to recertify. You'll need 10 points each in general, administrative, and clinical content continuing education. You may accumulate the other 30 points in any way you prefer. However, if you choose to get your continuing education credits elsewhere, you can provide transcripts to the AAMA.
4. Attend Workshops, Conferences, and Lectures
There are plenty of workshops, conferences, and lectures taking place around the country that provide exciting new information to anyone who works in the healthcare industry. For example, the ASHE, or American Society for Healthcare Engineering, offers several conferences and workshops each year that are open to the public. They also offer online courses that can help you further your knowledge of current practices and new technologies in the healthcare industry.
The US National Library of Medicine is another great resource for anyone working in the healthcare industry. They offer several lectures each year that focus on the history of medicine and how things have changed over the years, new technologies and how they may impact the industry, and even alternative medicine and how it applies in the Western medical industry.


5. Hone and Develop Your Personal Qualities
The most successful medical assistants have very specific qualities and traits that they have honed over the years. Some of the most important qualities are as follows.
Customer Service: As a medical assistant, your job involves much more than simply doing what the physician asks you to do. In fact, you should think of your job as a customer service position. These days, the healthcare industry is especially competitive, and you are a representative of your employer. Your patients are customers, and you need to be able to meet their needs.
Adaptability: The healthcare field improves and advances daily. It seems that new medications are approved every few days, and the technologies used to diagnose and treat patients keep getting better. You'll need to understand these technologies and how they work, so being adaptable is key. This adaptability will also help you through things like scheduling conflicts and quick thinking in the event of an emergency.
Humility: All too often, people fail to ask for help when something is outside of the scope of their knowledge. In a healthcare setting, this can be a tragic mistake. As a medical assistant, you must have humility. You should certainly know your strengths, but you should also know your weaknesses and be able to take constructive criticism to heart.
Effective Communication: Communication is vital in the healthcare industry these days. Patients often see multiple professionals when they visit a clinic or hospital. Between the administrative assistant, the nursing assistant, the nurse, the medical assistant, and the physician, there's a lot of information that could get lost along the way. Developing effective communication skills will benefit you, your employer, and your patients most importantly.
A Positive Attitude: Finally, showing up to work every day with a positive attitude is probably the absolute best thing you can do to improve yourself as a medical assistant. With a genuine smile and a drive to help others, you'll want to improve both now and in the future. Patients will appreciate your smile, and your employer will appreciate your professionalism.
There are several ways to improve yourself as a medical assistant. You can go back to college and get a degree, further your education with continuing education credits, obtain certification, and even work on developing the qualities that make a good healthcare professional great.