Home
»» Administrative Medical Assistant
What is an Administrative Medical Assistant?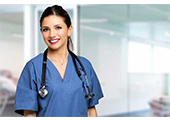 Administrative medical assistants work in hospitals, clinics, doctors' offices, and specialists' offices to assist with front office tasks as they relate to providing quality healthcare. These individuals perform mainly clerical tasks, but they may still be called upon to assist with direct patient care. Below, you'll learn everything you should know about a career as an administrative MA so you can follow the career path that suits your unique wants and needs.
Sponsored Search
Administrative Medical Assistant Educational Requirements
There are three different educational paths you can take to becoming an administrative medical assistant.
High School Diploma or GED: There is no educational requirement for working as an administrative assistant outside of obtaining a high school diploma or its equivalent. Many people have entered the workforce as administrative MAs without postsecondary education. The vast majority of employers prefer to hire candidates who have obtained degrees, certificates, or diplomas that demonstrate knowledge and mastery of required skills.
Certificate or Diploma: Most commonly, individuals who work as administrative medical assistants obtain a diploma or certificate, either at a community or technical college. These take anywhere from nine to 12 months to complete, on average. Many schools offer the opportunity to take classroom courses online, though you'll need to travel to the campus for laboratory work and schedule an externship, which provides the hands-on portion of your education.
Associate's Degree: Finally, you may choose to obtain an Associate of Applied Science in Medical Assisting degree. This degree takes two years to complete, but some schools offer fast-track programs that you can complete in as little as 18 months. Like the diploma or certificate, you can complete much of the program online, and you will need to attend classes on campus for your lab work. Many colleges will schedule your externship for you. Although it takes longer to obtain a degree, it gives you an edge as an administrative medical assistant in today's workforce and makes you a very valuable candidate in the eyes of employers.
Certification to become an Administrative Medical Assistant
Although certification is not necessary to work as an administrative medical assistant, it certainly can improve your employability and make you a stronger candidate in the job market. The National Healthcareer Association, or NHA, offers the CMAA credential, which stands for Certified Medical Administrative Assistant. The prerequisites for taking this exam are easy to meet, as well. In order to sit for this exam, you need to have completed an MA program within the last five years or have at least one year of documented experience within the field in the last three years.
You may work as an administrative medical assistant without certification. However, many states have what are known as Scope of Practice laws that strictly limit the types of procedures you can perform. For example, you may not be able to work with patients hands-on without certification or credentials. In states where you can work directly with patients without this certification, you may not be able to draw blood or administer injections without credentials. The American Association of Medical Assistants provides a list of all 50 states and their individual Scope of Practice Laws.


Exam Details and Cost
If you meet the aforementioned perquisites to sit of the CMAA exam, you will need to register for the test on the NHA website. It costs $117 , and you will need to create a basic profile in order to get started. You will be asked to provide your email address, and you will need to choose a password. Choose "Registering Individually" from the Organization Type drop-down, and then provide your name, address, phone number, birthdate, and other optional information.
You can take your exam at any number of PSI testing locations across the country. Many technical and community colleges will offer the exam onsite after program completion, as well. There are 110 scored multiple choice questions on the exam, and you will have 130 minutes to complete it. Topics covered on the exam include patient scheduling, patient intake, office logistics, compliance, patient education, and general office policies and procedures. You can download a test plan directly from the NHA, and you can also purchase an online study package to help you prepare.
If you take your test on a computer at an educational institution, you can get the results immediately after the exam. If you take a written test at an institution, or if you take your exam online through PSI, you'll receive your results within 48 business hours after completing your exam. You will receive your certification directly, either in the mail or from your educational facility.
In order to maintain your CMAA credentials, you will need to renew them every two years. The NHA requires you to complete 10 continuing education credits and pay a recertification fee of $169 every 24 months. The NHA also provides an online CE program that makes it easier to obtain the credits you need to avoid lapses in your credentials. Simply log into your NHA account and choose a course. Once you've completed that course successfully, just click "Apply CE Credits."


Necessary Skills
In order to be a successful administrative MA, you will need the following skills:
• Proficiency in computers and basic software, such as spreadsheets and word processing programs.
• Excellent communication skills when speaking directly to patients and/or coworkers, when on the telephone, or when sending email or postal mail correspondence.
• Basic mathematics skills for handling billing and light bookkeeping.
• Familiarity with insurance billing practices and medical coding.
• Immaculate organizational skills for handling and processing patient health and billing records.
• Knowledge of HIPAA (Health Insurance Portability and Accountability) and JCAHO (Joint Commission on Accreditation of Healthcare Organizations) regulations and policies.


Personal Qualities
Aside from skills you can learn on the job or in a classroom, there are some personal qualities that will help you be a better administrative medical assistant. These qualities include:
• The ability to adapt to changes in the workplace and advances in technologies. The healthcare field advances very quickly, so being able to keep up with those changes is vital.
• A strong work ethic in order to show your employers that you have what it takes to do the best and most efficient job possible.
• A drive to continuously improve your skillsets and knowledge as they apply to your job.
• Flexibility, which allows you to fulfill any role or perform any task that allows the healthcare team to provide the best quality care. In fact, the most successful medical assistants are those who obtain more than one credential. You may consider sitting for a Certified Clinical Medical Assistant (CCMA) exam as well, since this improves your employability.
• The ability to stay motivated at work.
• A positive attitude for greeting, speaking to, and assisting patients throughout the day. When you work in the front office, your face is one of the first people see, so you are a direct representation of your employer. Being able to smile and remain upbeat will help you give patients the right first impression, which reflects positively on both you and your employer.


Administrative Medical Assistant Duties
Administrative medical assistants will carry out a wide variety of duties. These can vary based on the type of healthcare facility, its size, and the number of employees. Administrative MAs working in small doctors' offices will need to perform a broader range of tasks than those who work in large hospitals since there are fewer employees. Along those same lines, someone working in a hospital may have different duties than someone working in a specialist's office. The duties that every administrative medical assistant will perform on the job include:
• Greeting patients when they enter the facility, office, or clinic.
• Taking personal information from patients, including but not limited to medical histories.
• Scheduling appointments for patients, either in person or via the telephone.
• Entering patient information into databases and managing those databases according to HIPAA and JCAHO guidelines.
• Contacting patients via telephone or email to remind them of upcoming appointments, to provide the results of laboratory tests, and to discuss billing or collect payments.
• Contacting insurance companies on behalf of patients to confirm coverage, discuss limitations, or obtain preapprovals for certain procedures when required by those insurance companies.
• Answering patients' questions as they relate to appointments, billing matters, and in some cases even procedures or medications.
• Filling out insurance forms and filing claims on behalf of patients.
• Creating, printing, and faxing proof of doctors' visits to patients, employers, and schools as needed.
• Assisting patients with questions regarding FMLA (Family Medical Leave Act) and the associated paperwork.
• Keeping software up to date.
• Organizing patient health records.
• Performing basic cleaning duties.
• Assisting physicians and/or nurses with basic patient care, including taking vital signs and helping with examinations when needed.


Work Environment and Schedule
Administrative medical assistants work in doctors' offices, hospitals, clinics, and other healthcare facilities. Some may work in very small physicians' offices, and others may work in fast-paced trauma centers in some of the biggest cities in the country. Because of this, an administrative MA's work environment and schedule may vary greatly.
Doctors' Offices: About 57% of all medical assistants work in doctors' offices, and another 10% work in specialists' offices. They work full time in the daytime hours, and they very rarely work weekends or holidays. This is a predictable type of work environment, which means administrative MAs in these settings experience less stress and can work at a steady pace.
Clinics and Outpatient Care Facilities: Only about 7% of all medical assistants are employed in clinics and other outpatient facilities. These types of facilities can vary as they include everything from free clinics and walk-in clinics to urgent care centers. Administrative MAs working in clinics and minor surgery centers work full time, usually during the day, and do not work on holidays or weekends. On the other hand, those working in urgent care facilities may work day or night, even on holidays and weekends.
Hospitals: About 15% of all medical assistants work in state, local, or private hospitals. Their roles in these settings vary based upon the department in which they work. Administrative MAs working in hospitals should expect to work a wide variety of hours, including daytime, evening, and even overnight shifts. The pace of the job varies by department, too. An administrative MA in cardiology has a slower-paced career than someone working in the trauma or emergency department.


Administrative Medical Assistant Salary
| | | | |
| --- | --- | --- | --- |
| Type | Hourly | Monthly | Annual |
| Entry-Level | $12.51 | $2,170 | $26,020 |
| Mid-Level | $15.81 | $2,740 | $32,880 |
| Experienced | $22.34 | $3,870 | $46,460 |
According to a survey undertaken by our editorial team, the average salary for administrative medical assistants in all facilities is $33,990 per year. This is very close to the average annual salary for all medical assistants, which is $33,580 according to the Bureau of Labor Statistics, or BLS. Administrative MAs earn between $24,120 and $46,460 per year. There are several individual factors that can affect the amount of money you can earn in this career field.
Location: Individuals working in smaller, less-populated, and poorer locations will earn lower salaries than those who work in large facilities in metropolitan areas.
Type of Healthcare Facility: Administrative medical assistants who work in high-stress, fast-paced environments, such as urgent care facilities and emergency departments, typically earn more money than those who work in slower-paced environments such as physicians' offices.
Work Schedule: In many facilities, individuals who opt to work late evening or overnight shifts can earn substantially more than their day or afternoon-shift coworkers. Shift differentials range from $0.50 to $2.00 more on the hour for those who work midnight shifts.
Education: Administrative MAs who have only a high school education will earn salaries at the lower end of the spectrum. Those who have diplomas or certificates earn salaries closer to the average, and those who have associate's degrees will earn salaries at the top end of the scale.
Certifications: Administrative medical assistants who do not have any certifications earn salaries that are far lower than their certified or registered counterparts. What's more, MAs who have multiple certifications – such as the CMAA credential along with the Registered Medical Assistant credential – tend to earn more than all others.
Experience: While classroom, laboratory, and externship education is valuable, many employers look for administrative MAs who have experience on the job. These are the individuals who are sought the most and the ones that most employers are willing to pay very well. The more experience you gain, the higher your salary can climb. When you combine that with your education and your certifications, it's possible to earn far more than the national average for medical assistants.


Administrative Medical Assistant Job Outlook
The BLS reports that MA employment as a whole will climb some 29% by 2026, which is much faster than average across all occupations. As the baby boom generation continues to age, there will be increased demand for healthcare services across all specialties and fields, contributing to the increased need for medical assistants. What's more, changes in healthcare laws will call for skilled individuals to handle filing claims on behalf of patients – one of the primary duties of an administrative medical assistant. More people than ever before have access to health insurance, which is driving up the demand for quality healthcare as a whole.


Future Career Options
Getting started with a career as an administrative medical assistant is quick, and it allows you to enter the healthcare field with only minimal education and student expense. However, for many people, this is only the beginning of their careers in healthcare. The experience you gain as an administrative MA can serve you well if you choose to follow another career path down the line.
For example, an administrative medical assistant will spend some time every day working with medical coding. This means that you can go back to school for medical coding and billing at any time, which can give your salary a boost. Medical records and health information technicians earn an average salary of $42,820 per year. You might also choose to become a physician's assistant, which requires a master's degree. Although it will take four years to complete your education, the average salary for a physician's assistant is $104,760 per year. Other career options you can consider include becoming a nurse, an occupational therapy assistant, or a physical therapist assistant.


Conclusion
Overall, a career as an administrative medical assistant offers you many different options when it comes to everything from your work schedule and environment to your salary. This career allows you to enter the healthcare industry workforce very quickly, and it also provides a solid foundation for a variety of other medical careers should you choose to pursue them in the future.