Home
»» Certified Medical Assistant
What is a Certified Medical Assistant?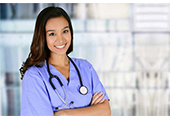 Certified medical assistants (CMAs) work in many different facilities and provide assistance to doctors, nurses, and other healthcare staff members. They perform a variety of clerical and clinical tasks, including direct patient care and administrative assistance. Here, you'll learn all about becoming a certified medical assistant, what you can expect on the job, and where your career can take you in the future.
Sponsored Search
Certified Medical Assistant Educational Requirements
There are three different educational paths you can take to becoming a certified medical assistant. While it is possible to become a medical assistant with nothing more than a high school diploma and a desire to succeed, you'll need extensive experience in the healthcare field before you'll be considered for the position. The best way to climb the career ladder into an MA position without obtaining post-secondary education is to work for the same physician or facility for several years and prove your ability to provide all of the clerical and clinical assistance necessary. The following are the 3 educational paths to become a medical assistant.
High School Diploma or Equivalent: Many certified medical assistants enter the workforce without any postsecondary education at all. If you want to become certified, you'll need one year of work experience in the last three years. In today's competitive market, it may be difficult for you to find work as a medical assistant if you do not have a degree, diploma, or certificate.
Diploma or Certificate: There are many community and technical colleges offering diplomas or certificates for CMAs. The good news is that many now offer courses online, which makes it easier for medical assistants who are already in the workforce to get more education. You can take the classroom coursework online, but any laboratory work must be completed on campus, and you'll need to schedule your own externship.
Associate's Degree: An associate's degree will take you about two years to complete, though there are some fast-track programs that will allow you to finish your studies in about 18 months. Many schools offer online hybrid programs, too, which makes things more flexible for CMAs who are already working. Courses like anatomy, biology, and medical terminology can be taken online, but you'll still be required to participate in lab work and a hands-on externship. An associate's degree provides you with the most in-depth education, and it makes you incredibly valuable to your potential employers.


Certification to become a Certified Medical Assistant
There is no federal or state law that requires a medical assistant to become certified in order to work. However, certification does make you far more valuable and therefore more employable. If you choose to become certified, you should visit the American Association of Medical Assistants, or AAMA, website. Here, you'll learn everything there is to know about becoming a CMA, which stands for Certified Medical Assistant.
The requirements for certification through the AAMA include proof of graduation from a program accredited by the Commission on Accreditation of Allied Health Education Programs (CAAHEP) or the Accrediting Bureau of Health Education Schools (ABHES). The AAMA tests candidates on both clinical and clerical medical assisting skills, which shows that you are well-rounded and able to complete the tasks assigned to you in the workplace. As part of your certification, you'll also need to participate in a practicum, which is an unpaid, supervised, hands-on work experience that shows you have mastered the skills you need.
Keep in mind that if you choose not to become certified as a medical assistant, you may be very limited in the types of tasks you can perform. Although no state requires a medical assistant to become certified, many states have Scope of Practice laws that limit the types of care you can or cannot deliver based on your certifications or lack thereof. The AAMA provides a list of Scope of Practice laws by state. This can help you decide whether certification is right for you, and it can also help you understand the types of limitations that may be placed on you if you choose not to certify.
Exam Cost and Details
The CMA examination is administered by the National Board of Medical Examiners, and through a system called Prometric, which focuses heavily on the reliability and validity of the credential. The exam itself is rigorous and in-depth. Over the course of four 40-minute segments, you will need to answer 200 multiple choice questions required broad and current knowledge on the delivery of healthcare in a variety of settings. For more information, you can refer to the exam content outline provided by the AAMA.
To apply for the exam, you'll first need to verify your eligibility. There are two ways to qualify for the CMA exam if you are taking it for the first time. If you are a recent graduate of a CAAHEP or ABHES-accredited program, you'll need to take the exam within 30 days of completing your formal training and provide verification of completion from your program instructor to the AAMA. If you are a non-recent graduate, you will need transcripts from the school where you obtained your diploma, certificate, or degree in order to qualify.
If you are a recent graduate of an accredited program, the exam will cost $125, which you must remit prior to taking your exam. If you are a non-recent graduate, you'll pay $125 only if you are a member of the AAMA. If you are a nonmember, your exam cost will be $250. The AAMA provides information about becoming a member of the organization as well as the many benefits of doing so.
Once you've obtained your certification, you'll need to renew it once every 60 months, either by reexamination or earning continuing education credits. In either case, there is an enrollment fee that you must pay in order to be recertified. The fee is $65 for members, $130 for nonmembers, and an additional $50 for reactivation if you have allowed your credential to expire.


Pertinent Skills
Aside from the right education and CMA credential, you are more likely to succeed in your career as a certified medical assistant if you have a very specific set of skills along with some inherent personal qualities. Certified medical assistants must perform a wide range of duties, which means they'll need a solid set of very flexible skills. They include:
• Basic knowledge of computers and software like spreadsheets and word processing programs.
• Knowledge of medical terminology and coding.
• Familiarity with medical instruments commonly used in all types of practices.
• The ability to communicate well with not only healthcare staff, but also with patients, especially if your job entails assisting doctors with examinations, taking medical histories, or discussing treatments and medications with patients.
• A firm understanding of how to use medical instruments like thermometers, stethoscopes, sphygmomanometers, and others used to measure and record patients' vital signs.
• Organizational skills for accurately documenting information in patient charts, either on a computer, on paper, or both.
• A solid understanding of a variety of medical conditions and their symptoms.
• Knowledge of pharmaceutical medications, herbal supplements, and over-the-counter remedies.


Personal Qualities
A career as a certified medical assistant is not right for everyone. Ideal candidates should possess certain personal qualities that prove their ability to be successful in the field. These qualities include:
• Empathy for patients and their families, whether they are dealing with an illness or an issue with their health insurance providers.
• Dependability, because a job as a certified medical assistant may require long hours during times when facilities are incredibly busy or short-staffed. The healthcare team will rely on you to assist them with a variety of tasks, which will allow them to deliver quality care to patients.
• The ability to tolerate stress since a career as a certified medical assistant can be incredibly stressful, especially when working in a trauma center or emergency room.
• Solid morals and a strong work ethic for assisting patients in maintaining their modesty, protecting their privacy, and helping them make the right choices with regard to the care they receive.
• The ability to pay very close attention to detail in order to catch any signs or symptoms that may help with making the right diagnosis.
• A genuine desire to help others, since this is what will continue to drive you in your career and keep you feeling fulfilled year after year.


Certified Medical Assistant Duties and Tasks
A certified medical assistant may perform any number of duties, and these vary based upon the setting in which he or she works. For example, a CMA who works in a very small facility may need to complete a wide array of both clerical and clinical tasks in order to help that facility provide the best possible healthcare. In a larger facility, a CMA may perform very specialized tasks, either in the front office or the back office, depending on the needs of the particular healthcare institution. The duties you will perform as a CMA include but are not limited to:
• Greeting patients by telephone or in person as they enter the facility.
• Escorting patients to exam rooms.
• Taking patients' medical histories.
• Taking vital signs, including things like blood pressure, temperature, and pulse.
• Making patients comfortable as they wait to be seen by the doctor.
• Recording patients' chief complaints and briefing doctors before they enter the exam room.
• Assisting doctors with examinations and procedures as needed.
• Administering medications and discussing those medications with patients.
• Keeping the office area organized.
• Entering data from patient charts into computers.
• Contacting patients via telephone to remind them of appointments or billing obligations.
• Contacting insurance companies via telephone to obtain pre-approval for procedures, as required, or to determine coverage.
• Assisting with coding and billing as required.
• Performing cleaning duties as required.


Work Environment and Schedule
Most certified medical assistants will work a standard 40-hour work week, though the hours themselves will vary based upon the employment setting.
Doctors' and Physicians' Offices: 57% of all of the medical assistants employed in the US work in private practices like these. A CMA in a doctor's office will work traditional 40-hour work weeks, Monday through Friday. You will typically not be asked to work weekends or holidays since private offices are not open during these times. The work environment is climate-controlled and predictable, but it is rarely boring since new patients provide new challenges day to day.
Outpatient Care Facilities and Clinics: Another 7% of medical assistants work outpatient facilities or clinics, including everything from clinics and intermediate care to urgent care facilities. If you work as a certified medical assistant in a clinic, you will probably work day shifts, though some evening and weekend hours may be required depending on the clinic itself. The work is relatively predictable in a clinic setting. If you work in a trauma or intermediate care facility, you may need to work nights along with some weekends and holidays since these facilities do not close. The work in these facilities can be far more stressful since you'll need to think on your feet and assist in saving lives that are in immediate danger.
Hospitals: Of all of the medical assistants in the country, about 15% work in hospitals that are funded at the local or state level, or are privately owned. Your role as a certified medical assistant will vary greatly depending on the department in which you are enrolled. For example, if you work in billing, your job may be limited to predictable administrative tasks. On the other hand, if you work in the emergency department, each day is unpredictable.


Salary
| | | | |
| --- | --- | --- | --- |
| Type | Hourly | Monthly | Annual |
| Entry-Level | $12.91 | $2,240 | $26,850 |
| Mid-Level | $16.31 | $2,830 | $33,930 |
| Experienced | $23.05 | $4,000 | $47,940 |
According to a survey undertaken by our editorial team, as of May 2018 the average annual salary for a certified medical assistant is $35,120. This is well above the average annual salary for all medical assistants, which is $33,580 according to the Bureau of Labor Statistics, or BLS. Those who worked in outpatient care centers earned the most, while those who worked in specialists' offices earned the least. What's more, certified medical assistants enjoy better employability, more job opportunities, and more opportunities to advance than their non-certified counterparts.


Certified Medical Assistant Job Outlook
The BLS reports that the employment of medical assistants as a whole will grow significantly between now and 2026. As of 2016, there were 634,400 MAs employed across the country. That number is expected to climb to 818,400 by 2026, which represents a significant growth of 29%. There are many things that factor into this growth, but analysts for the BLS believe that the increasing number of aging people in the country plays a major role, as does the fact that more people now have access to healthcare due to new government mandates. Certified medical assistants will enjoy fantastic job security, especially if they keep their credentials up to date.


Future Career Options
A career as a certified medical assistant can be incredibly rewarding, and it's a great way to enter the workforce with only minimal financial investment and training. Although there are hundreds of thousands of people who remain certified medical assistants throughout their professional careers, many use this particular job as a stepping stone while they return to school and earn degrees to perform higher-paying tasks within the healthcare industry.
Many physician's assistants start out as certified medical assistants since this career choice provides them with insight into careers in the health industry. They obtain their associate's degrees, work as certified medical assistants, and return to school later. In order to become a physician's assistant, you will need to obtain a master's degree. However, with the experience and knowledge gained from a MA career, doing so becomes much simpler in the long run. As a physician's assistant, you can earn up to $104,760 per year – quite a jump in salary, and well above the national average.
Conversely, you may choose other career paths that do not require four years of college. For example, you will learn some billing and coding on the job, which can qualify you for a career as a health information technician. These individuals earn just over $42,820 per year on average, and they only need a postsecondary certificate or diploma to be considered for the job. You might also opt to specialize and become a dental assistant, who earns $38,690 per year on average with a diploma or certificate, or a physical therapist's assistant, who earns $57,620 per year with two-year associate's degree program.


Conclusion
As you can see, there are advantages to a career as a certified medical assistant. Not only does your certification make you more employable and valuable to your employers, but it also provides you with a larger salary and more job security in the long run. A career as a CMA can be incredibly fulfilling for a lifetime, but it is also a wonderful stepping stone should you decide to pursue a higher-paying career in healthcare in the future.