Home
»» Duties in Various Medical Settings
What are the Duties of a Medical Assistant in Various Medical Settings?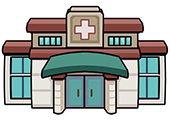 Medical assistants (MAs) perform a wide variety of duties that are both administrative and clinical in nature. Although they all perform the same tasks in a general sense, MAs who work in specific settings may have different or unique duties. The tasks listed below are specific to each type of facility and setting, which can help MAs (can we use you here will that sound right) decide which type of employment is right for their personal needs.
Sponsored Search
Duties in Doctors' Offices
Doctors' offices are often small facilities with only a few exam rooms. Doctors who manage their own practices often rely heavily on their medical assistants for both administrative and clinical tasks. In very small offices, there may be only a few employees – the physician, an MA or a nurse, and the receptionist. This means that everyone must chip in to ensure the success of the practice. In this setting, MAs may be required to do most of the following:
• Clean the facility from top to bottom, including waiting areas, restrooms, exam rooms, office areas, and stockrooms.
• Empty trash and medical waste receptacles.
• Fill in for the receptionist when necessary.
• Assume much of the responsibility for taking, filing, and analyzing patient data.
• Greet patients, show them to exam rooms, take vital signs, take medical histories, and document the patient's chief complaint or reason for visit prior to seeing the doctor.
• Organize and restock medical supplies, which may include ordering supplies from vendors.
• Reach out to patients to remind them of appointments or past due balances.
• Track practice expenditures.


Duties in Clinics
Clinics are facilities in which one or more doctors provide care to patients. MAs in these facilities may work for one specific physician, but they may also be assigned to one or more different physicians each day based on staffing needs. Clinics are typically run by parent medical corporations, which hire receptionists and medical cleaning crews. Because of this, medical assistants will focus more on their clinical duties. What's more, because nurses will take vital signs and prepare patients for their visits, medical assistants in these settings focus primarily on aiding the physician during and after the exam. A medical assistant in a clinic will be asked to:
• Assist with performing physical examinations by providing medical implements.
• Document patients' primary complaints.
• Document any procedures performed or physicians' recommendations for care.
• Remove sutures.
• Administer injections or other medications under the direction of a physician.
• Apply casts, wraps, splints, slings, braces, and other medical implements.
• Deliver prescriptions written by physicians and provide explanations on how to take them.
• Discuss doctors' orders with patients, which may include bedrest, light duty at work, specialized dieting, wound care, and more.
• Enter information about the visit into patients' charts.
Duties in Hospitals
Because hospitals are much larger than clinics, medical assistants will often provide care for several different physicians, and often in the same shift. In this case, an MA must be very detail-oriented and organized as he or she may be required to read orders from patient charts rather than take them directly from doctors or surgeons. Although nurses will often handle things like taking vital signs, and housekeeping staff will handle most of the cleaning, MAs will often provide them with support when needed. Medical assistants in hospitals perform the following clerical and clinical duties:
• Check patients' charts at the beginning of each shift.
• Meet with staff from the previous shift for updates and information about patients.
• Check in with patients regularly to ensure their health and safety.
• Check wounds regularly and clean or redress them as needed.
• Assist patients with ambulating to the restroom or through the hallways when necessary.
• Record patient information throughout the shift.
• Answer phones and take messages as needed.
• Direct calls to patient rooms as appropriate.
• Speak with patients and their families about plans for care.
• Assist physicians with daily checkups.
• Arrange for procedures, including laboratory work, x-rays, MRIs, and other scans.
• Draw blood for lab work.
• Collect and deliver specimen samples.
• Assist physicians with drawing up discharge documents.
• Assist with discharging patients by providing information about at-home care and follow-up visits with primary care physicians or specialists.


Duties in Urgent Care Facilities
Urgent care facilities exist to provide care to patients who have been injured or who have an acute illness that does not necessarily warrant a trip to a trauma center or emergency department. These facilities provide MAs with a fast-paced work environment, which means that they will need to perform a wide variety of duties based on the needs of physicians, nursing staff, and administrative staff. Aside from typical clerical and clinical duties, a medical assistant in an urgent care facility will need to:
• Assist patients with signing in upon arrival.
• Provide triage services to patients in order to determine the severity and scope of an illness or injury.
• Carefully document triage information.
• Show patients to examination rooms following triage.
• Assist nursing staff as necessary by taking vital signs, checking in on patients, and providing medical supplies where needed in exam rooms.
• Assist physicians with various procedures common in urgent care facilities, including the immediate treatment of burns, applying compression to wounds, cleaning and debriding wounds, and helping with sutures.
• Contact specialists, including radiologists, orthopedists, cardiologists, pulmonologists, and others who are required to provide patients with the best possible care.
• Talk to patients' family members about their current health and the necessary treatments.


Duties in Emergency Units
Emergency rooms are very fast-paced facilities that often save many lives in a single day. Everyone in the department must work together fluidly in order to provide the best care to patients. Even medical assistants can sometimes feel the pressure of making quick decisions in emergencies. MA tasks that are specific to emergency departments can vary, but these individuals will often:
• Provide triage services to determine the scope and severity of a patient's injury or illness, when applicable.
• Take vital signs and provide the information to physicians.
• Take instructions directly from physicians to help provide patient care in dire emergencies, which may include measuring injectable medications, providing injections, starting IV drips, or even performing CPR.
• Notify family members of a loved one's injury or illness.
• Take medical histories from family members when patients are unable to give information;
• Record and document information carefully.
• Contact primary care physicians and specialists on behalf of the patient in certain cases.
• Assist in scheduling x-rays, MRIs, CT scans, and other diagnostic services.
• Collect and deliver specimens for laboratory work.
• Assist physicians with admitting or discharging patients.


Duties in Minor Surgery
Minor surgeries may take place in clinics, but they are more common in hospital settings. Minor surgery is any minimally-invasive surgery in which the patient can go home the same day or the next day. This may include the removal of a small skin growth, laparoscopic surgery for things like gall bladder removal, and various other procedures that require sedation. A medical assistant in a minor surgery setting has a few very specific duties. He or she may need to:
• Check patients' medical histories for past illnesses and injuries.
• Speak with patients to help set expectations for the day of their surgery and their recovery.
• Contact patients prior to their surgeries to confirm dates and times.
• Remind patients of dietary orders prior to and following surgery.
• Assist physicians with minor surgical procedures by providing tools, implements, and other services as warranted.
• Monitor patients as they recover from anesthesia.
• Move patients from recovery rooms back to their own rooms.
• Provide discharge instructions and answer questions about at-home care.


Duties in Pain Management Clinics
Pain management clinics specialize in providing relief to patients who have chronic or long-term medical conditions that cause pain. These clinics employ a variety of measures, which may include everything from holistic treatments to the prescribing of painkillers. Because physicians in pain management clinics typically work with primary care providers in order to help patients get their pain under control, the role of the MA is typically clerical in nature. Medical assistants working in pain management clinics will typically:
• Assist with intake paperwork.
• Enter patient information into computer systems.
• Contact primary care physicians for information or to obtain medical records.
• Review medical records for previous methods used to try to alleviate patients' pain.
• Answer telephones and take messages.
• Schedule appointments for patients.
• Call patients with appointment reminders.
• Call insurance companies for verification of coverage.
• Fax/call in prescriptions to pharmacies on behalf of patients.
• Discuss treatments with patients to help set the proper expectations.
• Monitor patients' progress over time.


Duties in Nursing Homes and Rehabilitation Centers
Nursing homes and rehab facilities often employ medical assistants to assist physicians and nursing staff with both administrative and clinical tasks. In some cases, people may spend the rest of their lives in nursing homes. In others, individuals may only be in the facility for a short period of time while they recover from major injuries or illnesses until they are stable enough to go home. When employed by a nursing home or rehab facility, a medical assistant may be required to:
• Check patients regularly throughout their shifts.
• Take vital signs.
• Provide preventative care including turning patients regularly and monitoring for signs of health problems.
• Assist in bathing, feeding, dressing, and grooming patients when needed.
• Assist in cleaning patient rooms, including changing linens, mopping floors, dusting, and sanitizing when required.
• Answering phones and taking messages for staff.
• Talking to family members in person or on the telephone.
• Contacting family members if any problems should arise.
• Readying rooms for incoming patients.
• Contacting hospitals and arranging for transport for critically ill patients.


Duties in Behavioral Health Facilities
Some medical assistants are employed in behavioral health facilities to assist psychiatrists, doctors, nurses, and administrative staff. MAs in this setting will primarily perform medical assessments although they may also be required to perform some clerical tasks, depending on the employer and the size of the facility. A medical assistant working in a behavioral health facility will:
• Take blood pressure, height, weight, pulse, oxygen saturation, and other vital signs.
• Assess patients' overall health including things like smoking, drinking, and allergies to medication.
• Collect specimen samples for examination in a laboratory.
• Administer injections under the orders of a physician.
• Perform blood draws.
• Coordinate patients' medication refills with physicians.
• Record and report observations to doctors and/or mental health caregivers when necessary.


Duties in Military Settings
Medical assistants who work in military settings perform many of the duties listed above. These individuals help military doctors treat their patients for everything from the common flu to a minor laceration involving stitches to significant and often traumatic war wounds. Because of this, medical assistants in this field must be incredible well-rounded and well-versed. MAs play vital support roles in military healthcare, and they may work out in the field or in hospitals around the world.


Conclusion
As you can see, the duties of a medical assistant are incredibly diverse, and they often change significantly based upon his or her employment setting. While most perform a wide variety of clinical and clerical duties, some facilities call for more focus on the patients, while others call for more attention to the office. Keep in mind that many individual laws have Scope of Practice laws which limit the duties MAs can perform without certain credentials. The American Association of Medical Assistants offers more information by state.