Home
»» Medical Assistant Financial Aid
Medical Assistant Financial Aid and Scholarships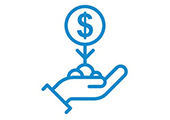 Medical assisting is quickly becoming one of the most popular entry-level professions in the healthcare industry, and like most others, it requires some secondary education that can sometimes be quite costly. Here, you will learn more about various grants and scholarships that can help you cover the costs of medical assistant programs across the United States.
Sponsored Search
What type of Financial Aid am I Eligible For?
As a student enrolled in a medical assistant program, you could be eligible for various scholarships, loans, and grants. To qualify for a grant or student loan, you must be enrolled in an undergraduate program, or a program that provides you with an associate degree at completion; certificate and diploma programs will not qualify. You may still qualify for a scholarship, however, depending on your state and your school of choice.


Grants
Grants are sums of money made available by the federal government or state that do not need to be repaid.
Pell Grants
The Pell Grant is the most common of all the federal grants and is awarded to students based on their financial need and academic performance. These grants, which currently provide up to $5920 in funding per school year, are only available to students who have not yet earned their first bachelor's degree. A Pell Grant is typically paid out twice per school year – half at the beginning of each term.
Federal Supplemental Educational Opportunity Grants (FSEOG)
The Federal Supplemental Educational Opportunity Grant awards students with a sum between $100 and $4000 for each school year depending on financial need. It can be awarded alongside the Pell Grant to students who demonstrate exceptional financial need, as well. Like the Pell Grant, you must be enrolled in a program that ends in an associate degree to qualify for this grant.


Loans
Students who cannot pay for their entire education upfront, who do not qualify for grants, or whose grants and scholarships do not cover the entire cost of their education may choose to apply for loans, instead.
Direct Subsidized Loans
Direct subsidized loans are backed by the federal government and offer simpler terms for students who need access to funding for their education. Like grants, they are only available to undergraduate and graduate students, and they will not be issued for certificate or diploma programs. Repayment programs vary to help suit individual students' needs.
Direct Stafford Loans
Direct Stafford Loans may be subsidized or unsubsidized depending on your financial need. First-year undergraduate medical assistant students can receive up to $5000, and this amount may increase with each subsequent year of study.
Direct Plus Loans
Direct PLUS Loans are available to students and their families who do not have adverse credit histories. In this case, you or your family borrows the money directly from the US Department of Education, and the total amount you can borrow is the costs of your attendance minus any other forms of financial aid you receive, including grants and scholarships.
Private Loans
Private loans are excellent options for students who may have access to outstanding interest rates through their (or through their parents') private banking institutions. The terms on these loans can vary a great deal, and students along with their families are encouraged to read any loan terms carefully before signing a contract.
State Financial Aid
Many individual states offer financial aid for medical assistant students in the form of scholarships and grants. To find out if you qualify for financial aid in your state, fill out the Free Application for Federal Student Aid, or FAFSA. Your school will tell you more about the types of state aid for which you qualify. In most cases, your state will provide you with aid after determining whether you qualify for Federal aid like the Pell Grant or FSEOG.


Aid from Your College / Institutional Aid
Many colleges – especially those that provide education in the healthcare industry – offer their own grants and scholarships. Many of these scholarships are privately-funded, which means the school can determine its own terms for distributing the aid funds. To learn more about the aid your school may offer, speak with someone in Financial Aid or Admissions.


Work Study
Work study programs for medical assistants are very rare. In some cases, undergraduate programs that take place on medical campuses may provide access to work study programs. Essentially, this involves agreeing to work for an employer for a predetermined amount of time in exchange for that employer covering the cost of your degree, diploma, or certificate.


Medical Assistant Scholarships
Like grants, medical assistant scholarships do not need to be repaid, but they are based more on your academic achievements than your financial need.

1. American Medical Technologists
The American Medical Technologists (AMT) offers five scholarships worth $500 each year, and in this case, the recipients are determined based on their financial need. These funds can only be used to cover tuition costs and they will be sent directly to your school of choice. You will need to apply before April 1, and you will be notified by early summer if you were chosen as a recipient.
2. Outstanding Student Award
The Outstanding Student Award is also offered by the AMT, and winners must be nominated by their program directors or instructors. Students who demonstrate excellent attendance, classroom participation, and the willingness to go above and beyond will be considered for this award. Nominations are accepted until November 1 each year, and the single recipient wins $250 and a plaque.
3. Scholarship of Excellence
The Scholarship of Excellence is offered by the Association of Schools of Allied Health Professions, or ASAHP. Selected students will win a $1000 scholarship and one student will win an additional $1000 and the title of Elwood Scholar. To be nominated, students must be high achievers in their fields and demonstrate a serious potential to assume a role in leadership.
4. Technical Writing Award
The Technical Writing Award, also from the American Medical Technologists (AMT), awards three students with a passion for writing. These students must write a research paper that is pertinent to medical assisting in order to qualify, and they can receive as much as $200 as well as participate in a ceremony at the AMT's Annual Meeting and Awards Banquet.
5. The Maxine Williams Scholarship Fund
The Maxine Williams Scholarship Fund is for students who have completed at least one quarter or semester of a college-level medical assisting program that has been accredited by the CAAHP, or Commission on Accreditation of Allied Health Education Programs. It is awarded by the American Association of Medical Assistants. Students must have a GPA of 3.0 or higher and they must be recommended by a program director to be considered. Financial need is also a consideration.