Medical Assistant Programs in San Francisco
San Francisco is one of the highest-paying cities in the U.S. for healthcare workers, and the employment market here is highly competitive. So, if you want to land the best jobs as a medical assistant in the City By the Bay, you'd do well to consider enrolling in one of the Medical Assistant programs in San Francisco. Accredited MA programs will teach you the essential administrative and clinical skills you need and how to perform those skills in an organized fashion, thereby optimizing your efficiency. Do you want to position yourself to land the best MA jobs out there? Review this guide to the 5 best Medical Assistant programs in San Francisco.
5 Best Medical Assistant Programs in San Francisco, California – 2023
Program Type: Medical Clinical Certificate, Certificate in Medical Assisting, Medical Administrative Associate, & Associate in Medical Assisting
If you aim at becoming a medical assistant in San Francisco, then The City College of San Francisco can help you reach your career goals with its wide range of medical assisting programs. Out of the four programs on offer, two are associate and the remaining two are certificate programs.
Medical Clinical Certificate – Beginning in the Spring semester, this fast-paced 32-credit program, majorly focuses on the clinical functions along with teaching you some basic administrative courses. During the two semesters of your education, you will complete human anatomy and physiology, medical terminology, computer applications, clinical procedures, electronic health records, communication and professionalism disease processes, and an internship course towards the end of the program.
Certificate – This comprehensive 60-credit certificate program teaches you both the clinical and non-clinical aspects of medical assisting. Besides the courses included in the clinical certificate, you will also attend classes in phlebotomy, coding, medical insurance & billing, CPT coding, and electronic management of financial medical records.
Medical Administrative Associate – If you are inclined towards the front office duties then his administrative certificate prepares you to work in entry-level positions of a medical office receptionist, ward clerk, admitting clerk, or an office manager in a medical facility. The curriculum requires you to earn 56 credits by completing administrative courses like medical terminology, computer applications, electronic management of financial medical records, administrative procedures, advanced medical insurance billing, and advanced medical manager.
Associate – Being the most comprehensive medical assisting course of this school, this associate degree program provides you with all-round training in front-office, back-office, and liberal arts. This associate degree that takes three semesters plus one summer session includes courses in introduction to healthcare, phlebotomy technician, medical terminology, computer applications, electronic health record, administrative procedures, disease process, CPT coding, clinical procedures, medical insurance billing and electronic management of financial medical records.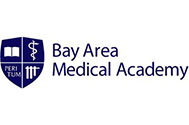 Program Type: Certificate (Medical Assistant with Phlebotomy)
Bay Area Medical Academy is one of the few medical assistant schools in San Francisco, CA that offers a 3-in-1 combined certificate in medical assisting. This curriculum not only trains you in performing the clinical and clerical duties of a medical assistant but also prepares you in becoming an EKG and Phlebotomy Technician. During your education here you will also be working on equipment like electrocardiography machines, sphygmomanometers, autoclaves, and microscopes used in a real-time healthcare facility.
The certificate comprises 900 hours of training that is split into 8 modules. In the first 7 modules, you will be gaining theoretical knowledge in pathology, anatomy & physiology, medical terminology, computer software, medical ethics, pharmacology, medical insurance, and medical office management. You will also be guided through various administrative, clinical, and diagnostic & laboratory procedures. The final module is fully dedicated to an externship where you will be completing 200 hours of practical training. Two weeks after you complete the program you can take the exam and become a certified medical assistant. What's more, the college campus is an approved testing site for national medical assisting certification examinations, with the exam being held on weekends, making it rather convenient for you to take the test.
Program Type: Diploma
Did you know that California provides maximum jobs for medical assistants in the United States? For that reason, becoming a medical assistant in San Francisco or any other city of this state can lead to a promising career in healthcare. Unitek College's hybrid-online medical assistant diploma provides you with practical skills and didactic training to help you to excel in this field. Your education here will encompass classroom lectures, laboratory tasks, and hands-on experiences through an externship. On graduating you will be able to explore job opportunities in diverse settings such as physician offices, hospitals, laboratories, and other health industry providers.
You can graduate from this program in 9 months by completing courses like medication administration, diagnostic imaging, infection control, first aid & emergencies, and nervous and endocrine systems. Office management, medical law, computerized systems are a few of the administrative courses that you will also be learning. The program concludes with an externship of 165 hours that you will complete under the supervision of the school's qualified faculty.
4)
San Francisco State University
Program Type: Clinical Medical Assistant Certificate & Medical Administrative Assistant Certificate
Depending on your career goals and interest, you can choose from either San Francisco State University's certificate in Clinical or Administrative functions. The instructors here are experienced healthcare workers who have carefully designed these programs to make them relevant to the needs of employers. The college also offers volunteering services where you can work and gain experience either as a student assistant or an intern.
Clinical Medical Assistant – The course focuses on teaching you the clinical aspects of medical assisting through 140 hours of classroom training and 160 hours of on-field learning through an externship. The coursework consists of medical terminology, anatomy & physiology, legal aspects & work ethics, an introduction to medical facilities, interpersonal skills & human behavior, phlebotomy, and venipuncture.
Medical Administrative Assistant – This program is completely delivered online and helps you gain expertise in fulfilling receptionist, and administrative tasks. The coursework although emphasizes majorly on the administrative side also includes training in basic back-office functions. Some of the courses you take include medical histories, fundamentals of medical law, medical ethics, telephone techniques, insurance, billing & coding, financial management, and administration of medical records.
Program Type: (Medical Administrative Assistant)
If you are looking at quality medical assistant programs in San Francisco, that are low cost, then you may want to know about Jewish Vocational Service's free medical administrative assistant education. The program is offered free of cost, in fact, it can even help you earn a few bucks through a 4-month paid internship opportunity provided upon completion of the entire coursework. Through the 9 weeks of the program, you will focus on mastering front office skills by learning communication, basic computer & front office skills, leadership, and oral & written communication. To help you procure suitable placements you will receive help in terms of resume building, and interview preparation.
Our Ranking Methodology
Nearest Cities in California

Nearby States

Popular Related Articles